Address
Barney's Uptown
Haarlemmerstraat 105, 1013 EW, Amsterdam
Tel:
+31(0)20 4279469
Opening Times
Monday09:30am - 01:00am
Tuesday09:30am - 01:00am
Wednesday09:30am - 01:00am
Thursday09:30am - 01:00am
Friday09:30am - 03:00am
Saturday09:30am - 03:00am
Sunday09:30am - 01:00am
Christmas Eve09:30am - 10:00pm
Christmas DayClosed
New Years Eve09:30am - 03:00am
New Years Day10:00am - 01:00am
Uptown Events
Live Djs Thursdays til 1am, Friday & Saturday nights til 2am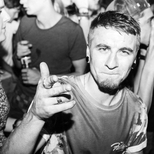 Customer Reviews
I am constantly amazed at the ability of the Barneys Uptown staff to keep everybody supplied with food and drink without delay yet still find time to chat amicably and maintain a friendly demeanour with every customer there. Even the DJ had time during his performance to tell me the name of some songs I had liked and even gave me a CD
- Ritchie
Absolutely amazing barman! Very quick service even when it was busy! Super cute accent too ;)
- Harriet Harding
The staff don't ever seem to stop moving yet never seem hassled. On my last visit to Amsterdam I ate here breakfast and dinner for 3 days. Including my wife's birthday meal. Which they took delivery of a cake for me and stored it until our meal.
- Kev Honey
I make a point of stopping in at Barneys every time I am in Amsterdam. Either in the morning for the fine breakfast or in the evening for a beer and smoke and the inevitable pleasant conversation with whoever happens to be there. The Manager Steve is an awesome host and made me feel right at home the moment I first walked in.
- Ritchie
Absolutely fantastic atmosphere. You're able to go sit down and light up while enjoying a beer or one of the best milkshakes known to mankind. The music is great, the people were great. Perfect atmosphere to unwind and enjoy!
- Margaret O'Hagan
A quality place where enjoy the time with peace on your mind........😎
-
Add A Review