Parking Information
When visiting Barney's by car, the cheapest and most secure and relaxed parking is at ParkBee Havengebouw and Q-Park Amsterdam Centraal located just 5 to 7 minutes walk.
Amsterdam is not a car friendly city, and more and more cars are being squeezed out of the town with street parking places being changed to loading zones and flower gardens.
When parking on the street the costs are €7.50 per hour. Illegal parking is highly controlled with ticket fines of €100 and cars being towed away with costs up to €500.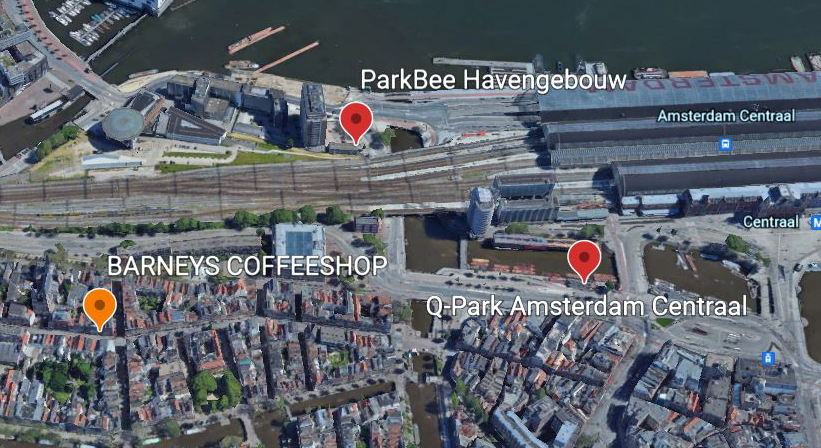 Address
Barney's Coffeeshop
Haarlemmerstraat 102, 1013 EW, Amsterdam
Tel:
+31(0)20 6259761
Opening Times
Monday9:00am - 01:00am
Tuesday9:00am - 01:00am
Wednesday9:00am - 01:00am
Thursday9:00am - 01:00am
Friday9:00am - 01:00am
Saturday9:00am - 01:00am
Sunday9:00am - 01:00am
Christmas Eve9:00am - 01:00am
Christmas DayClosed
New Years Eve9:00am - 01:00am
New Years Day10:00am - 01:00am
Customer Reviews
Loved this place. Can't wait to come back next year and spend more time. Friendly staff and patrons. Enjoyed it immensely.
- bk
Very good
- Brian David Wright
Piccolino ma con prodotti di qualità
- Marco Scrich
Barney's is a lovely set of shops, enjoyed each i went into.
- Z Bwol
I don't know which shop I went into (seeing that I walked around in a massive circle after leaving another coffee shop), I ended up in here for my birthday. Love the atmosphere, very friendly staff. Amazing bud and decorBarney's is the place to go and I will be coming back... Hopefully with company this time around.
- Marsha
Pour fumer une mèche en mangent bien ne pas hésiter quand j'arrive à dam je vais là en premier après mettre pris 1 ou 2 grammes de weed dans le Coffee du même nom juste en face.
- Johan Bombasaro
Add A Review