Parking Information
When visiting Barney's by car, the cheapest and most secure and relaxed parking is at ParkBee Havengebouw and Q-Park Amsterdam Centraal located just 5 to 7 minutes walk.
Amsterdam is not a car friendly city, and more and more cars are being squeezed out of the town with street parking places being changed to loading zones and flower gardens.
When parking on the street the costs are €7.50 per hour. Illegal parking is highly controlled with ticket fines of €100 and cars being towed away with costs up to €500.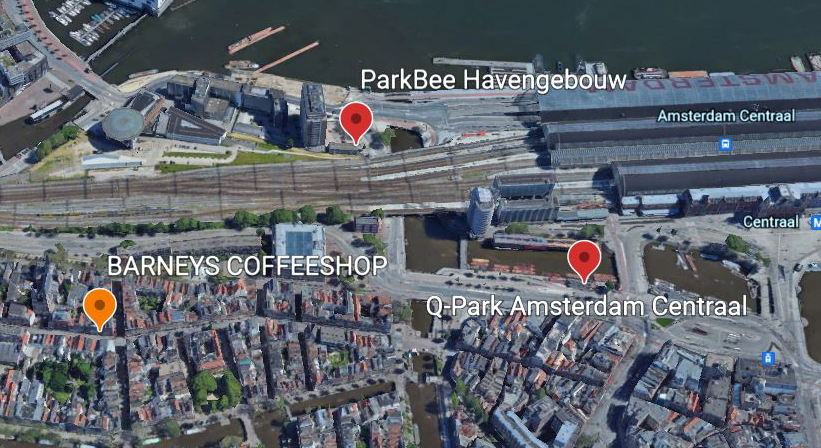 Address
Barney's Coffeeshop
Haarlemmerstraat 102, 1013 EW, Amsterdam
Tel:
+31(0)20 6259761
Opening Times
Monday9:00am - 01:00am
Tuesday9:00am - 01:00am
Wednesday9:00am - 01:00am
Thursday9:00am - 01:00am
Friday9:00am - 01:00am
Saturday9:00am - 01:00am
Sunday9:00am - 01:00am
Christmas Eve9:00am - 01:00am
Christmas DayClosed
New Years Eve9:00am - 01:00am
New Years Day10:00am - 01:00am
Customer Reviews
Great music selection, really chilled to have a coffee and relax. They have heated seats!
- Rafael Pato
Best coffeeshop in Amsterdam. 5 star. Highly recommended! Will be returning.
- Denis Keles
The best there is, the best there was, the best that will ever be!!!!!
- Alex Nilmar
Cosy little place on the canals, got everything you could need in an Amsterdam cafe, will be coming back again very soon.
- Dee Denna
Good atmosphere excellent quality of herbs!
- Heather McCourty
Loved this place. Can't wait to come back next year and spend more time. Friendly staff and patrons. Enjoyed it immensely.
- bk
Add A Review