Parking Information
When visiting Barney's by car, the cheapest and most secure and relaxed parking is at ParkBee Havengebouw and Q-Park Amsterdam Centraal located just 5 to 7 minutes walk.
Amsterdam is not a car friendly city, and more and more cars are being squeezed out of the town with street parking places being changed to loading zones and flower gardens.
When parking on the street the costs are €7.50 per hour. Illegal parking is highly controlled with ticket fines of €100 and cars being towed away with costs up to €500.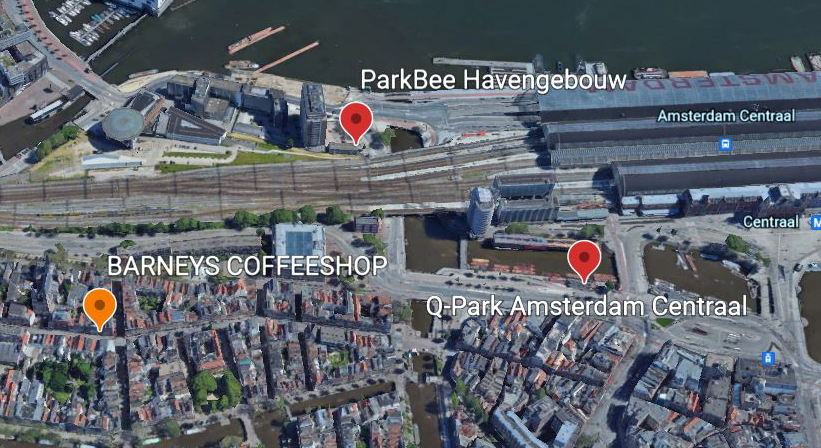 Address
Barney's Coffeeshop
Haarlemmerstraat 102, 1013 EW, Amsterdam
Tel:
+31(0)20 6259761
Opening Times
Monday

9:00am - 01:00am

Tuesday

9:00am - 01:00am

Wednesday

9:00am - 01:00am

Thursday

9:00am - 01:00am

Friday

7:00am - 01:00am

Saturday

7:00am - 01:00am

Sunday

9:00am - 01:00am

Christmas Eve

9:00am - 01:00am

Christmas Day

Closed

New Years Eve

9:00am - 01:00am

New Years Day

10:00am - 01:00am
Customer Reviews
Very cool modern looking coffeeshop. Barney's have a excellent reputation and it is shown by this establishment. Menu is great and the staff are attentive and happy to help. Bravo I say.
- Zombizz Buzz
Great food. They serve breakfast which is very tasty. The atmosphere is perfect and the music is great for chilling.
- Supphakiat Supabundit
The weed is pure and the people are very nice too!!
- Buster Helix
Loved this place. Can't wait to come back next year and spend more time. Friendly staff and patrons. Enjoyed it immensely.
- bk
Good atmosphere excellent quality of herbs!
- Heather McCourty
Add A Review